The Hendrix Project – Jimi Hendrix Tribute Show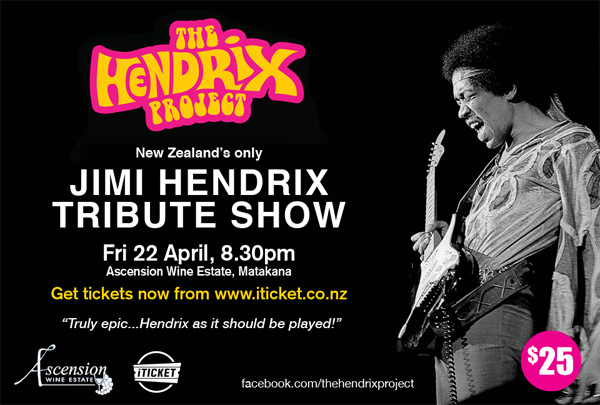 Don't miss this incredible performance from New Zealand's only Jimi Hendrix Tribute Band at one of the best venues north of Auckland.
Enjoy the awesome music of 60s rock legend Jimi Hendrix authentically recreated – with no detail missed – from 3 of the most talented musicians on the circuit today.
The Hendrix Project leads you through Jimi's incredible back catalogue performing electrifying versions of songs from: Are You Experienced, Axis: Bold As Love, Electric Ladyland and Band of Gypsy's plus some other great tracks thrown in for a jam as Hendrix was so fond of doing.
This show took 121 days to rehearse and perfect, so if you're a Jimi Hendrix fan you'll know this show won't disappoint. Grab your ticket today!
http://www.iticket.co.nz/events/2016/apr/the-hendrix-project-matakana